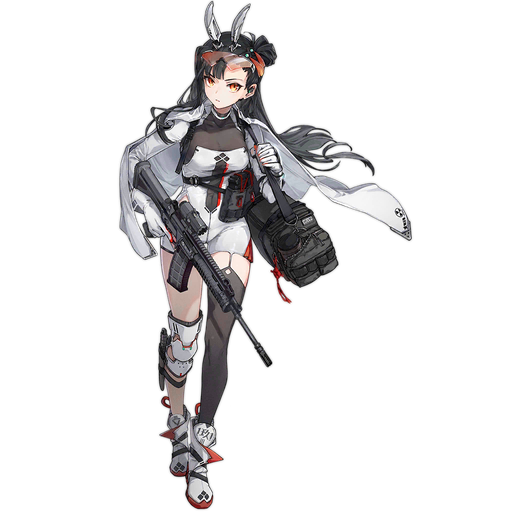 QBZ-191 – ★★★★★ Assault Rifle
Another of Imoko's daughters, and somewhat more spoiled than the other Chinese Rifle. As far as dealing with high-threat enemies goes, she is the last word. She does AoE damage as she attacks the same enemy, can silence enemies to stop skills, and is usable in general AR formations. At full tilt vs the right formations (clusters of high threat enemies with echelons), her effective DPS outclasses any other normal AR (outstripping powerhouses like G11 and AN94 due to her AoE power). As an odd quirk, the silence doesn't just affect her targets, but all enemies on the field. She does have weaknesses (small, loose formations of tough enemies being the most obvious, so don't send her to fight tanks or gundams), but she's useful in enough situations to be worth having.
Also, because I know people are going to ask, just check the index entries for what counts as high threat for her skill. If it says "High Threat", it counts. And if you're wondering how she does targeting with multiple different high-threat targets, there's a table describing threat level each enemy has. No, I don't have it on hand. She goes from the highest threat level enemy (lol) to lowest threat level enemy that is still classified as "High Threat".