Garden of Old EX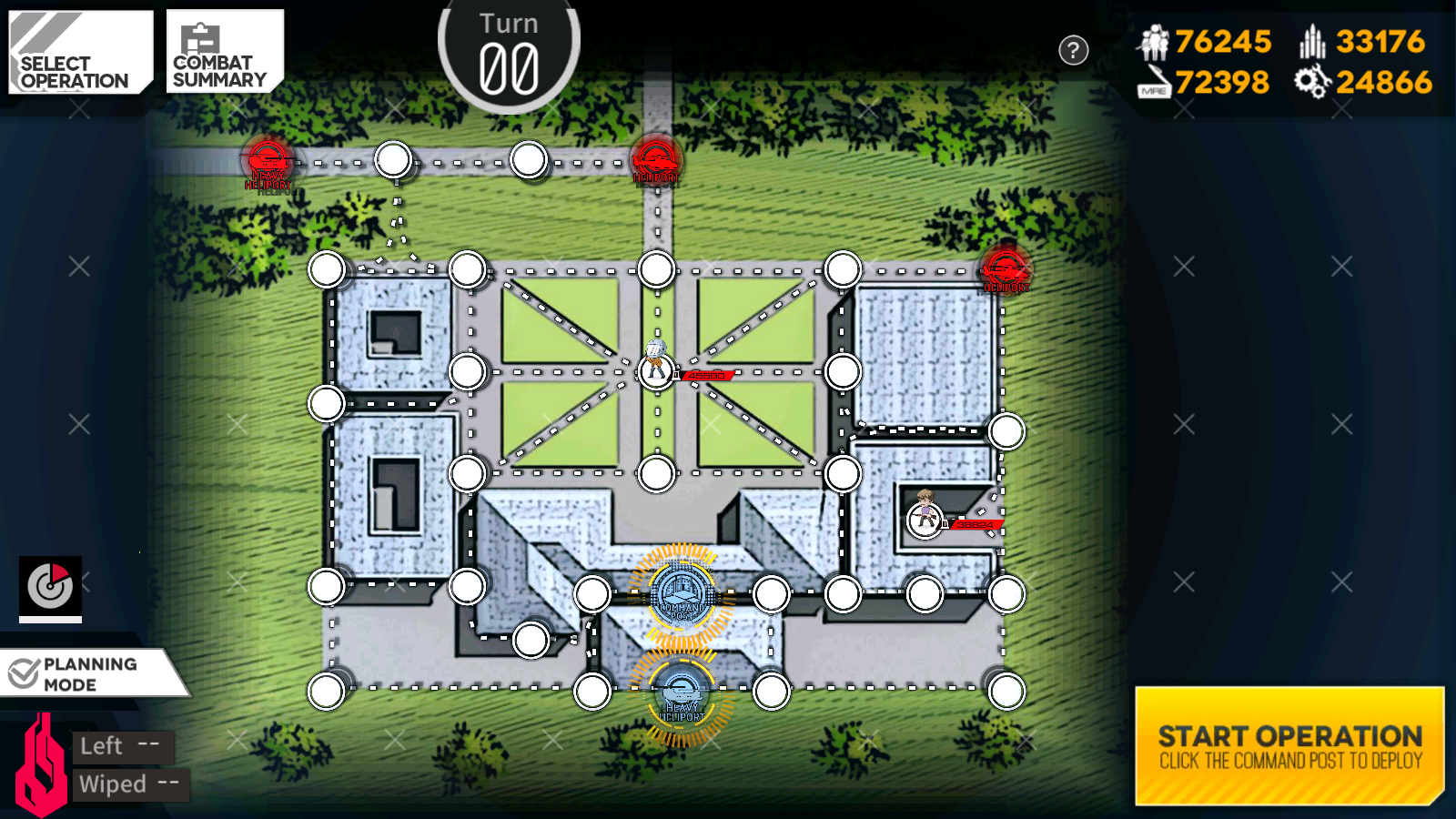 Objective: Elimination
Turn Limit: 9
Echelon Limit: 2
Recommended Echelon(s): AR/SMG (x2), 2B14
This map doesn't have an exact clear, since the enemy spawns are RNG-dependent. As such, I'll just be giving some tips on clearing the map. Note that there isn't an unclearable state for the map due to RNG, it's just that you can't really follow a guide and replicate the steps one-for-one if your enemies are in different locations.
There are two spots on the map that should be focused on: the top part of the map with the two Heliports, and the Heliport off to the right side of the map. These locations are where all of the enemies are coming from, and you need to cut them off to effectively clear the rest of the enemies up. Clearing at least one of the two spots should be a top priority. It is possible to parachute and take out some of the Heliports, but any fights will be extremely hard to take while under the Parachute Fairy's skill debuff. These enemies don't play around, and can cause you some serious issues if you're not prepared to take them on while under the effects of the debuff. 
You should try and take at least one Heliport early on in the map, before the Heliports are surrounded by enemy nodes. If this happens it will prevent you from fully capturing them, which can cause some issues with finishing the map, since you only have access to two echelons for this map. 
Bringing 2B14 for this can help a lot if you're having issues with the enemies, since the opening volley of 2B14 can lessen the numbers of the enemies you'll be fighting. 
Be aware that things will be coming for your Command Center, especially if you have 2B14 just chilling out down there. You may need to retreat an echelon and redeploy it down there if things get messy. 
Other than that, good luck, 'cause this can be a rough map to get through.
---
Video of me clearing this map
---
Author: Kazuki
Tags: GSG