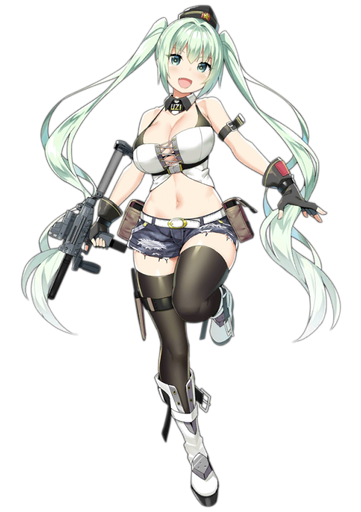 Micro Uzi Mod – ★★★★ Submachine Gun
Uh.... we came upon a weird timeline wherein frankly, if she had a +FP special item? She'd beat out Vector in a lot of cases. Now she only beats her in many cases and honestly might have more utility.
She learned to be less dumb with her tiles and actually they go BACKWARDS now. Wow. The buff percentages still aren't super impressive but she's no longer a dead slot for buffs. The damage she causes with that second skill? Surprisingly really high, especially in clusters. If lots of enemies are on fire next to each other, then they all affect each other with the burn, which can be really nasty vs some of the later ultra-dense enemy packs.
Aside from that, she's just a Molotov off-tank with an extra nice skill. She doesn't bring anything super new to the table as much as she's the pretty nice version of a dish you thought you'd never like.