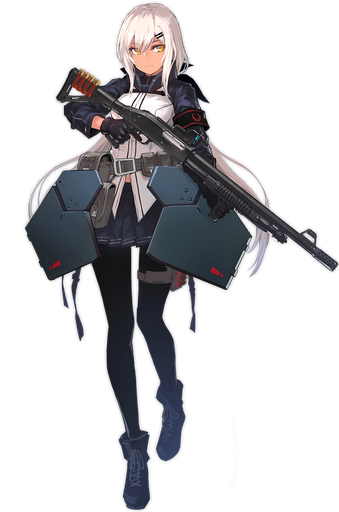 Mossberg M590 – ★★★★ Shotgun
The other shotgun besides KSG that has +Armor skills. Has higher HP and really good armor, but has an offtank aura meant for 2-shotgun formations which means you'll either need to move her every fight or have another shotgun. The aura effect is less flexible than a firepower buff, but potentially useful buff to a lot of MGs like M2HB or PK who could really use an acc boost. Regardless, If the primary consideration is just sheer defensive power, she makes an decent pick.
Additional Notes#
Dusk's Notes#
When her skill is active, she has more armor than KSG. KSG does have more EVA (after skill) for dodging extra 1s, which increases her effective hp in general use, if it triggers. Both of them have 8s initial CD which means that their skill wouldn't matter unless if you are 2nd salvoing.