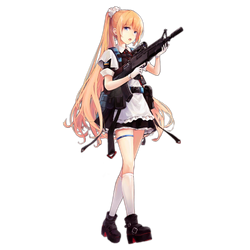 SSAU Vepr – ★★★ Assault Rifle
3* Ribey.
The problem is Ribey herself is only borderline viable to begin with; she has some of the lowest DPS of any AR herself and almost completely relies on her buffs to make up for it, which usually works out to a net positive, but not always.
Vepr has both weaker stats and weaker buffs (both skill and tiles), and you won't get dupes of her. Really no point in bothering with her, the free SAA you get from career quests or any 4+ star AR will give better results.