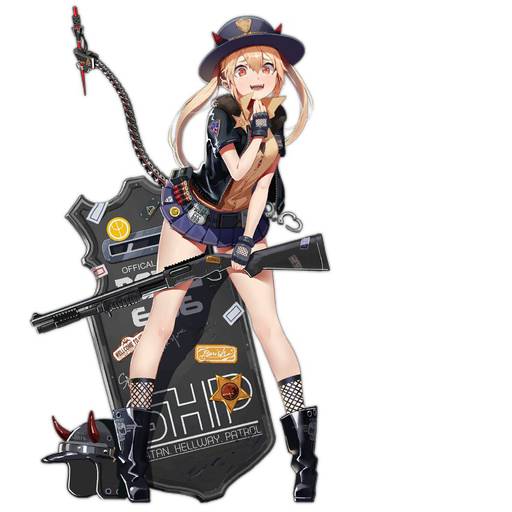 Remington M870 – ★★★★★ Shotgun
Basically every weird Hell's Angels meme in 1 go, and also probably a little crazy. Sometimes called Super Longty.
Her skill is pretty much a Force Shield that works similarly to the Paradeus ones, except instead of an HOC depleting it, it slowly weakens on its own. Pretty much works the same way where at max level, you have a 1000 strength barrier that blocks out everything for a second, then it goes down by 100 every second, weakening the shield (so after 1s, it's 90% DR, after 2s it's 80%, and so on) until the shield shuts down at the 6s mark.
This is actually not bad DR at all and with timing, CAN be used to tank Golyats.
Except it has a 10s initial cooldown so AGGHHHHHHH.
It does have it's uses sometimes, but it's not your first pick because of that usually.
She does however, have typical good 5 star shotgun stats so if for some reason you lack shotguns, you can just bring her along and she wont really be bad at that.