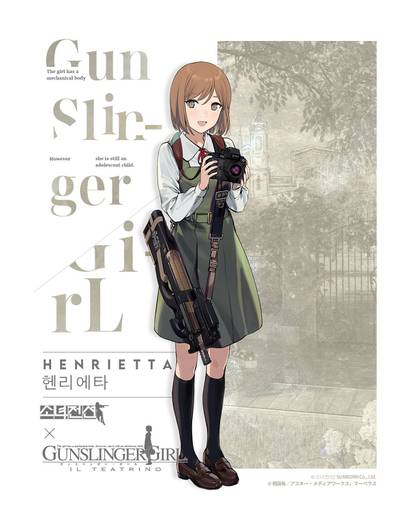 Henrietta – Special Submachine Gun
The meme potential of a girl with a camera and a smiling face is good enough reason to have her (now that we have multiple secretaries), but she's also not half bad as a combat unit. She gets a shield, and having the shield gives her FP buffs, while losing the shield means she's getting EVA buffs. The uptime is quite good, so she's not a bad side DPS (she has a 69% damage buff at 2 stacks and 119.7% at three stacks) that can sub-in for off-tanking and can even work as a main tank (44% eva at two stacks and 72.8% at 3). The problem is the optimal timing can be a little iffy, but she's alright for AFK fighting since it'll generally be good enough, just not fully optimized. The tradeoff between her and SR-3MP is just uptime vs power.
As expected of the main girl I guess.
Oh, and her tiles are weirdly shaped, but this is not uncommon for off-tank dolls anyway.