Longitudinal Strain
Intro#
Welcome back to another GFL event, this time on a train, with a map select that feels like it should be out of a murder mystery-styled game. We got a variety of cool maps to go through. While not nearly as difficult as Fixed Point, this event isn't exactly super easy. UX has a few maps that will test your echelons, pushing some fairly annoying enemies to go against. Overall, I'd recommend at least 2 AR and RF echelons as well as an MG/SG echelon if you're trying to push into UX. You had better be well-kitted. As for Normal and EX modes, you should be able to get through them with 2 AR echelons and maybe an RF echelon or two. 
There are a few new gimmicks in this event as well, some of them more impactful than others. The first gimmick we have is enemies being able to move multiple times per turn. While this sounds pretty fucking terrible, and it kinda is, at least the game will indicate it for you. If the enemy can move multiple times, they'll have a buff icon below them indicating as such, as well as how many additional times they can move per turn:
Two moves per turn: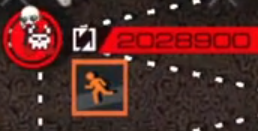 Three moves per turn: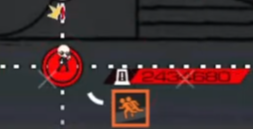 I will note that there are also things that can GIVE enemies this buff. Namely this tower thing: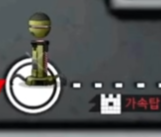 Enemies that pass through that tower will gain the buff. Fun. If they already have a double move, it'll also improve it to triple move. Double the fun.
There are also turrets now, but they're pretty...not worth mentioning.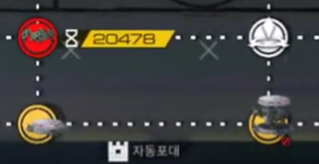 They fire upon adjacent spots on the map, the rules of which change depending on the map. Regardless of the rules, when they shoot you, all your T-Dolls lose HP. Pretty much it. They have two states: active and inactive. When they're up, they're active; when they're down, they're inactive, so they won't shoot. Sometimes they shoot you when you walk into their line of fire, sometimes not. Who's to know.
There's also this one-time gimmick where you can set fire to things with this thing:

But uh, it doesn't really have much purpose otherwise. The trees you set on fire provide you with vision of those nodes and deals damage to enemies in the fire. Not sure about your echelon. But who would send dolls into fire like that?
Here's a picture of the trees on fire: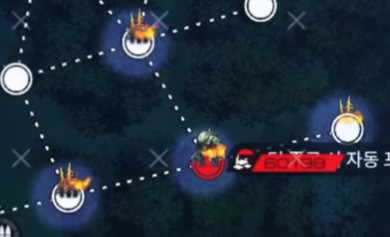 That's about it for new stuff. So...let's get to the maps and their guides.
---
Normal/EX#
Carriage 1
Carriage 2
3-β2 Symphony No. 2 in C Major
Carriage 3
---
Carriage 1
Carriage 2
3-β2 Symphony No. 2 in C Major
Carriage 3
---
New enemies#
Lycaon

 

High threat

High Range

Targets multiple T-Dolls at one time

 

These guys are a fairly simple type of enemy. They usually spawn in fairly far away and snipe you. Usually targets a couple of your front line T-Dolls. After a while, they will target a location and rapidly fire upon it, dealing heavy damage there. Don't walk into that if you wish to live.

Aegis

 

High Armor

Explosive Attacks
Elite 

High Threat

 

These guys are slow moving tanks that will constantly scan the column in front of them. If a T-Doll is detected, it will fire a round of missiles at them.

Cyclops MG

 

Elite

Armor Penetration

 

 

These fucks are the new hard enemy introduced in an event. You know SWAP Strikers? These are exactly the same. They'll cut you down pretty fast no matter what you use to fight them. So be wary of them when engaging.
---
Bosses#
As always this section is SPOILERS, if you don't want to see them, I'd suggest stopping here.
Granny Valeriya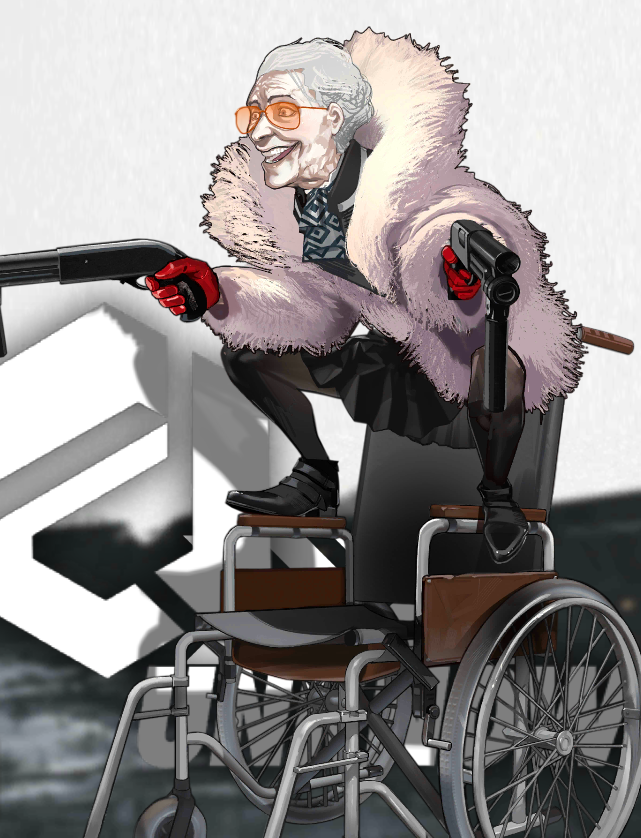 Yup. Granny gets fuckin' litty. Her fight is essentially a stat check. She opens with throwing her wheelchair at you, which does "you're now in critical damage state" damage to all T-Dolls in the middle row. So definitely do NOT be there when she starts getting angy. 
Her main thing is that she gains HP shielding every time she lands a shot. That, along with her...CONSIDERABLE firepower, this makes fighting her with shotguns not ideal. You'll want to slam an AR/SMG echelon into her, and hope they survive. 
Once she hits 50% HP, she enrages, powering her up a bit. 
A pretty simple fight, but it comes down to "do I have enough stats to survive this?"
Since I don't fight her in the guides, I'll leave this here for those who want to see her die.
Tareus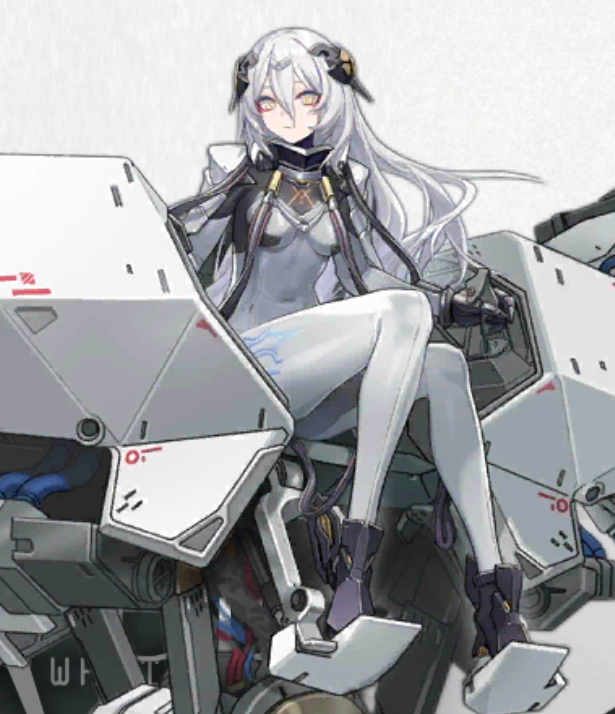 Mech girl herself. Her fight isn't anything particularly difficult. Her stats promote her being a tank since she, I think, has DR as well as armor/pretty high HP. The tradeoff is that her fight is fairly simplistic. Her basic attacks are whatever, and the skill she spams is fairly easy to handle. All it is is a basic warning tile then hit tile type of move. Every so often she'll also do a skill that does a row penetration. So, whatever row you're tanking in, don't have stuff behind your tank. Not much else to say.
---
Author: Kazuki
Tags: Longitudinal Strain