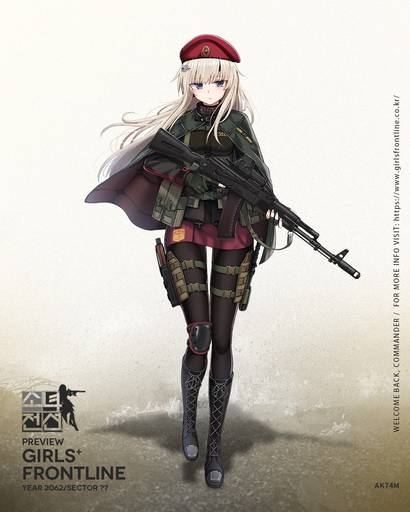 AK-74M – ★★★★ Assault Rifle
A fan doll that got so much traction that MICA brought her in. Do you REALLY like the AKs? Do AKs make you feel all tingly inside?
Her own buffs to herself count herself as an AK, so no matter what you get at least a 5% boost if you send her by herself. But frankly if you're not using at least two other AKs, why the fuck are you even using her? If you have AK47's best special equipment, she becomes a proper lord of war with very high DPS. Likewise, she makes AK-15's janky skill work (and this is before the Mod 3 made Ak15 busted as all fuck), boosts AK-12's DPS a considerable amount, and amazingly, solves AK-74U's problems with uptime.
While the percentages don't seem impressive for her self-buff, it's a passive, so you get a 44% boost from the very first shot no matter what in a four AK echelon (74SU + pick 2 other AK dolls you like), which gives her a decent start.