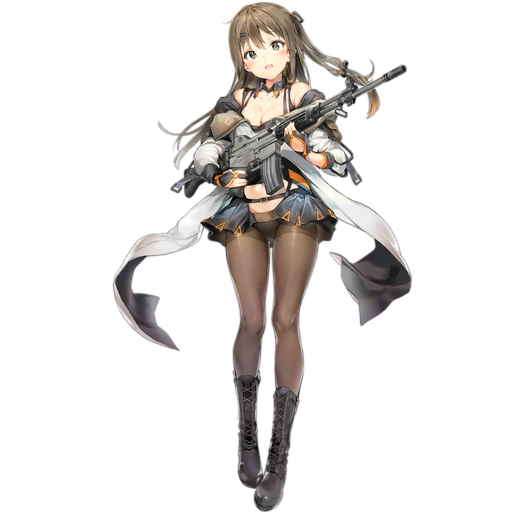 Daewoo Precision Industries K2 – ★★★★★ Assault Rifle
Standard issue rifle of the ROKAF and only non-main-Heroine doll to get her own fully animated PV. Also a tribute to Anmi's ability to make some of the game's lewdest art and have people not notice because of how innocent the faces are. Almost every adult Korean male is very intimately familiar with her, whether they wanted to be or not.
Imagine G11 started up her skill right at the start of the fight. Imagine she was completely useless against armour (more so than she already is). That's K2 in a nutshell. Super high DPS (1 of the strongest) for the first 6 seconds vs trash, but cannot fight armor to save her life and is absolutely awful against bosses. However, her ability to kill unarmored trash is some of the best in the game, which has plenty of uses since bosses are not actually the most common enemy type.
What her skill does is reduce her damage but fire off 3 round bursts, and builds up a heat counter which, when capped out, uh... fucks up her stats. The other part of her skill (stronger single shot damage but slows her down and makes every shot cool down instead of heat up) generally doesn't come up. Some actually recommend not giving her too many RoF buffs or she'll overheat.
Also, she's an awful Korean, being unable to tolerate spicy food (but she tries anyway)