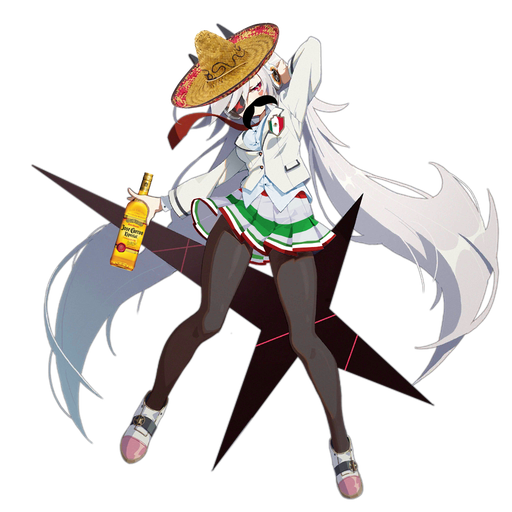 El Fail – Special Handgun
Like an anti-Clear. Instead of buffing allies, she debuffs enemies. She strums five times, each time applying a three-second rate of fire and accuracy debuff to three enemies, meaning a set of five strums can debuff up to 15 enemies. The debuff prioritizes enemies with the highest HP that have not yet gotten a debuff. Once all enemies have been debuffed, she starts over again, debuffing the highest HP enemy that hasn't been debuffed on the current cycle of the enemy list until all strums are used, and they can be stacked on any given enemy up to twice. The debuffs are alright, but Clear is usually better. Still, she can help your tank survive if for some reason you require more tankiness over more dakka. Due to the short duration of the debuff, she tends to work better on bosses.
Also take note that like Clear, if she's supposed to be playing when she has to move, SHE DOESN'T PLAY FOR THAT MOMENT. So, for best results, make sure she can sit still and play. Fortunately moving doesn't cancel the performance entirely, and just suspends it. This does make Jaguars and enemy mortars annoying as fuck though.
Also Dmesse's waifu, buy her skin. (This is not a message paid by Dmesse to spread smug Waterkuma doll greatness)