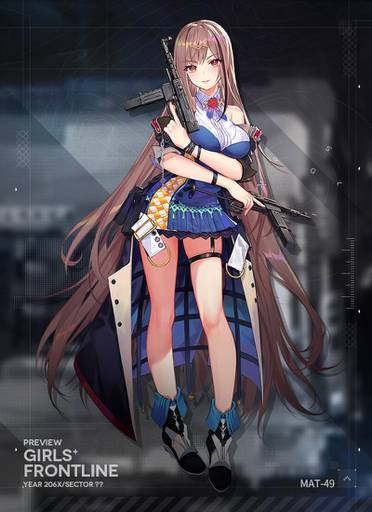 Pistolet-Mitrailleur de 9 mm modèle 1949 (MAT-49) – ★★★★ Submachine Gun
4* version of JS 9 with slightly different stat spread (worse eva, basically) and awkward tiles. Can be used similarly to her, if you don't mind kiting her more to make up for the goofy positioning.
Her biggest advantage is that you will be farming 12-4E enough to get sufficient copies of her to x5 link her for free, but by the time you can reach 12-4E you should have better SMGs.
So overall… meh. Does the job, but so will others.
Additional Notes
Chiaki's Notes#
Damage buff peaks at 205%, evasion buff peaks at 383%, with 5/8 uptime. 
Neither number is too shabby, but they're worse than JS9's, and realistically you'll end up somewhere between the two extremes.