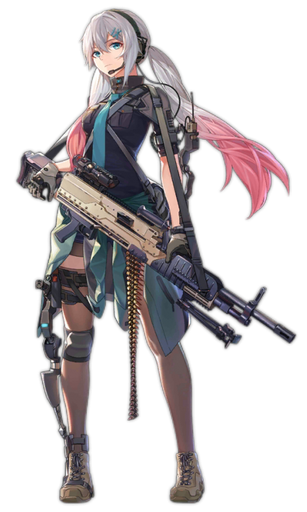 General Dynamics LWMMG Mod – ★★★★ Machine Gun
She actually gets some fairly hefty stat increases in her mod, with Mod 2 hitting as much FP as M2HB. The issues that 2 stars normally face (low skill values compared to higher ones, etc.) are pretty solved thanks to being upgraded to a 4 star, and it also gives her extra base ammo which helps out a lot. Overall a cheap mod to get, and honestly you get a fair bit of value off even just Mod 1.
She's pretty much an all-rounder MG, and with the Mod 2 skill, technically you're not limited to just SGs, but uh... the shield values are so low otherwise that it only really helps armored things, though I guess some people might find a use for that anyway. MATH BIT: Her Special Equip actually isn't awful, but tbh you're better off with an EOTech in most cases.
Her original form can be found here.